Web Chat add-on
for ChatGPT
The enterprise-grade extended conversational UI addon for ChatGPT displays charts, forms, tables, dashboards, and more to bring a more powerful user experience.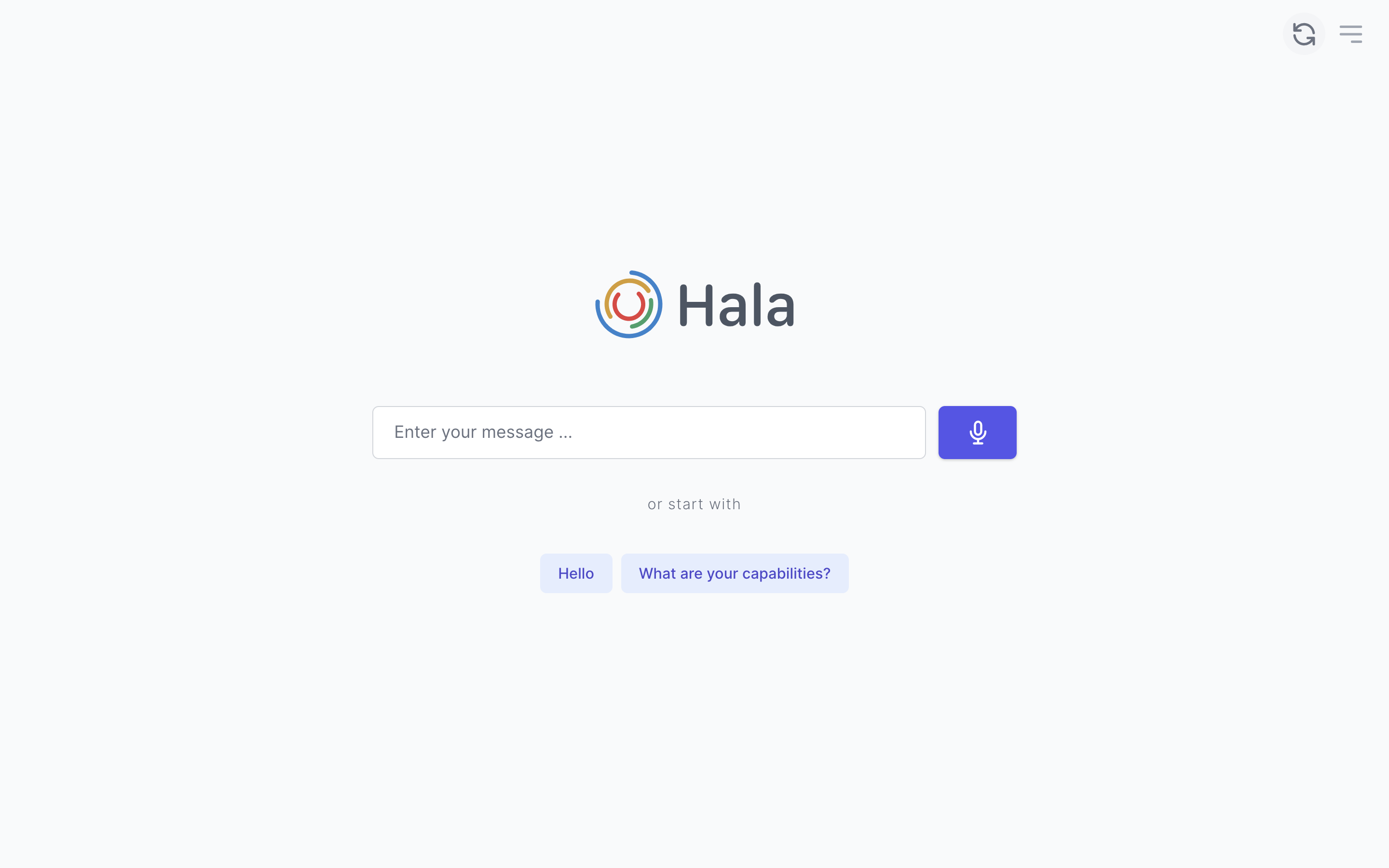 Spend your time building a bot, not a UI
Web Chat interface is seamlessly integrated with your ChatGPT
Numerous code solutions exist within most online chat systems to tackle the same issues, including browser compatibility, scrolling functionality, input validation, fundamental design, user interface elements, user management, integration features, analytics, and styling. It can be an inefficient use of time and energy to focus on resolving these common problems, especially when you could be improving the unique aspects of your chat experience. Hala web chat offers a solution to creating a customized UI. The Hala team's advanced functionality elevates your bot experience to new heights.
Train in ChatGPT

Talk in Hala
Save time & money on developing Web Chat
Developed by developers for developers & conversational AI designers
Faster launch of Web Chat

100x

Cost reduction in launching the bots

80%

Pre-built UI Components

20+
Everything you need
All-in-one platform
Hala Web chat provides everything you need to quickly and easily enable a first-class web chat interface for your users.
Web Chat interface

Out of the box web chat interface for ChatGPT.

UI Components

20+ UI components ready for usage.

Integrations

Easy integrate 3rd party software with your bot via APIs SDK.

Voice enablement

Add voice experience for your users by connecting voice service from Google, IBM and Amazon.

Workspaces

One ChatGPT account = One workspace. Connect as many as you want.

Single sign-on

Simple and Secure User Access Control (SAML 2.0 and OpenID Connect).

User management

Manage all the users of ChatGPT and their access.

Analytics

Extended analytics of the usage by users, by skills, and by messages.
How it works?
You focus on designing the ChatGPT, and Hala focuses on Web Chat, User authentication, User Management, and Integrations.
Get in touch
Let us know if you have any questions about product capabilities, solution benefits, platform features, pricing, or technical issues.
Phone number

Email