Digital Assistant
for QuickBooks Online
Automate the time-consuming and repetitive work in your QuickBooks Online.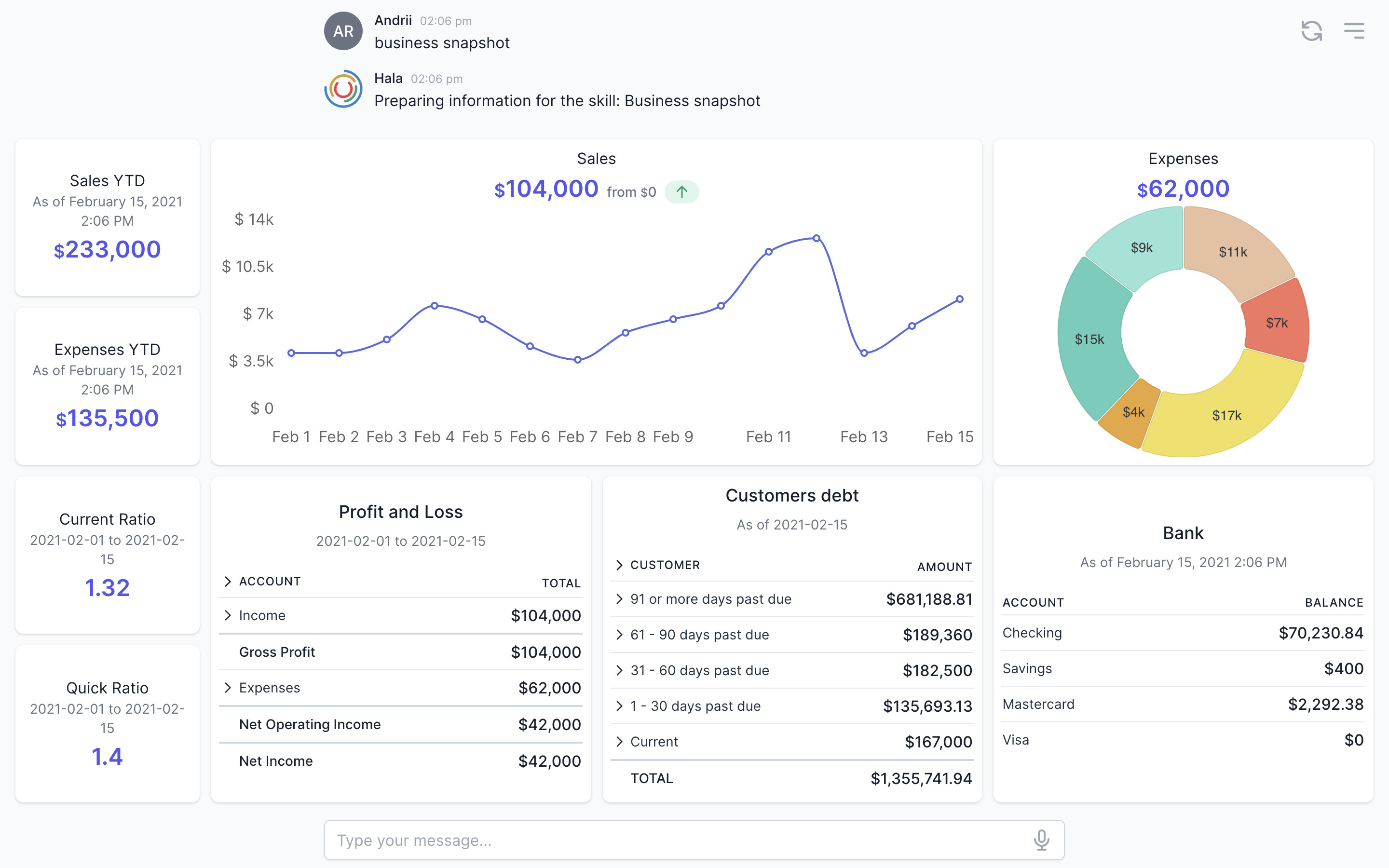 Hala.ai Digital Assistants for
Business Owners Experience
Hala Assistant provides a unique opportunity for business owners to get any analytics from QuickBooks Online and stay up to date anytime, anywhere, for having all the data for making business decisions.
Analytics, dashboards and reports

Use natural language for getting a business snapshot, sales and expenses data, customers' debt and income, time activity reports, and many more—all in one place.

Automation & Workflows

Receive notifications based on KPI's achievements or approve purchases, expenses, invoices, and other transactional data. Hala works as your personal virtual assistant integrated with QuickBooks Online.
Accountants Experience
Hala Digital Assistant for QuickBooks Online aims to provide support to accountants in daily operations by automating routine and repetitive work.
Daily operations

Hala supports accountants in dealing with enormous data entering activities, including invoices, bills, reconciliation, and bank statements.

Closing the periods

Hala has pre-built Digital Skills that bring automation into the period-end closing so that accountants can focus on more value-adding work.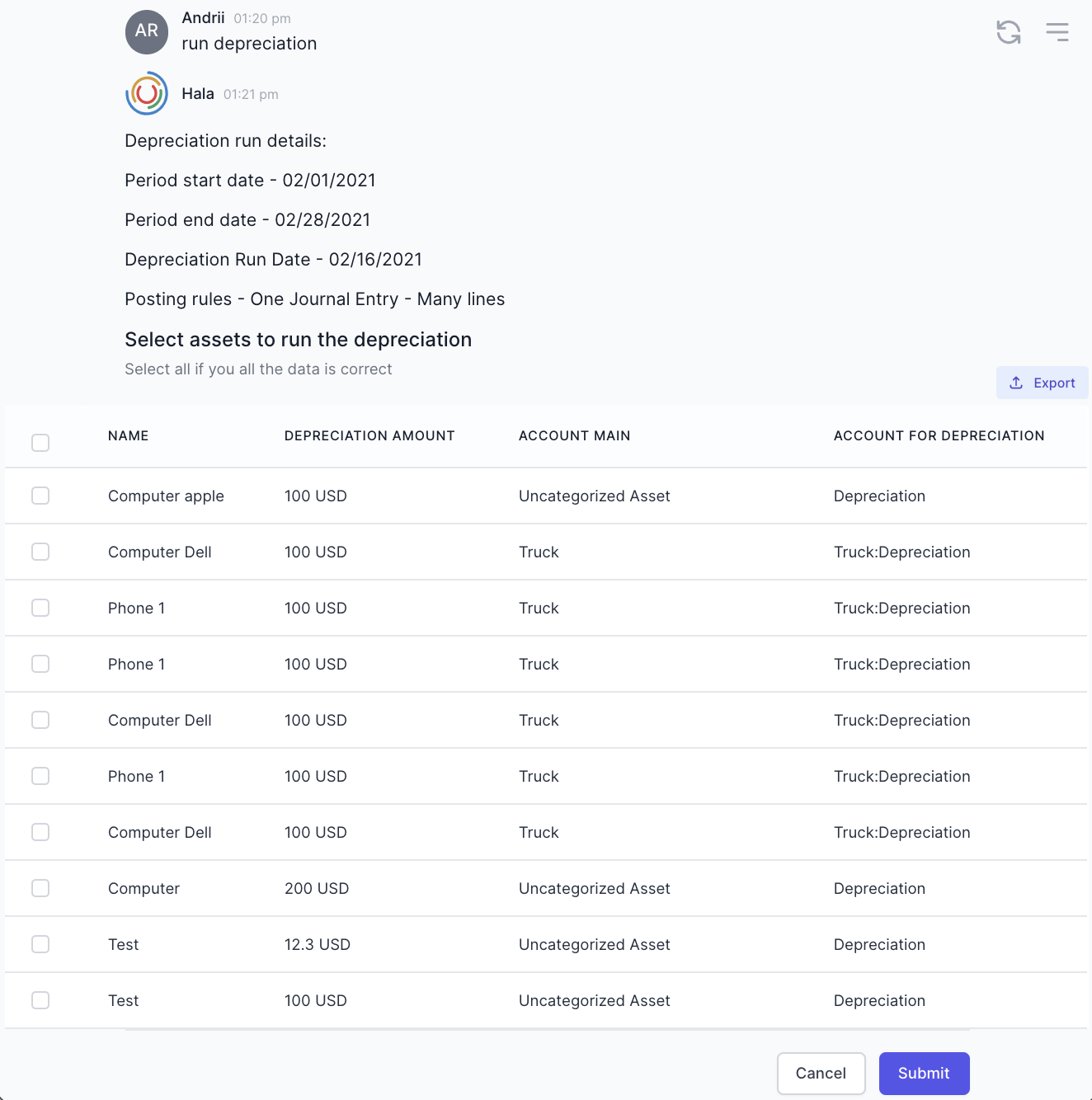 Employees Experience
Hala provides a new employee experience by personalizing conversations and providing self-serve automation. Our intelligent digital assistant with pre-built skills deals with unproductive tasks so employees can focus on critical issues.
Data entering

A business digital assistant helps employees in their daily business chores by supporting with entering the data, like time activities, expenses, and many more.

Data retrieving

With Hala, Assistant employees can get any data from QuickBooks Online without even logging into QuickBooks or learning how to work with it.
Features
All-in-one Digital Assistant
Hala Assistant can be activated within one click, and all the functionality becomes fully available for you.
Natural Language Understanding
We have pre-trained Hala to understand the business language and queries.
Voice & Text
Hala understands the natural language via voice and text input.
Desktop Web Chat
Hala Digital Assistant is available for the users of all modern web browsers.
User management
Manage the users, provide them access to the skills and analyze their conversations.
Pre-built Digital Skills
Pre-automated processes that are available for all the users.
Verified solution
Hala solution verified by Intuit and published on QuickBooks marketplace.
Value
Empower your daily work with Hala Digital Assistant
Hala Assistant takes responsibility for dealing with routine work and supporting you in becoming more productive and efficient.
20% Increase in productivity
50+ Pre-built AI digital skills
70% Time reduction in getting the data
25% Time reduction in closing the periods
Pre-built Digital Skills
Check Hala's pre-built digital skills ready for usage. We have trained Digital Assistant to understand the business language, so you do not need to spend time on natural language understanding training.
Ready to get started?
Sign up for free today