Microsoft Dynamics
Procurement AI Assistant
Experience the power of generative AI for Dynamics customers and revolutionize procurement automation.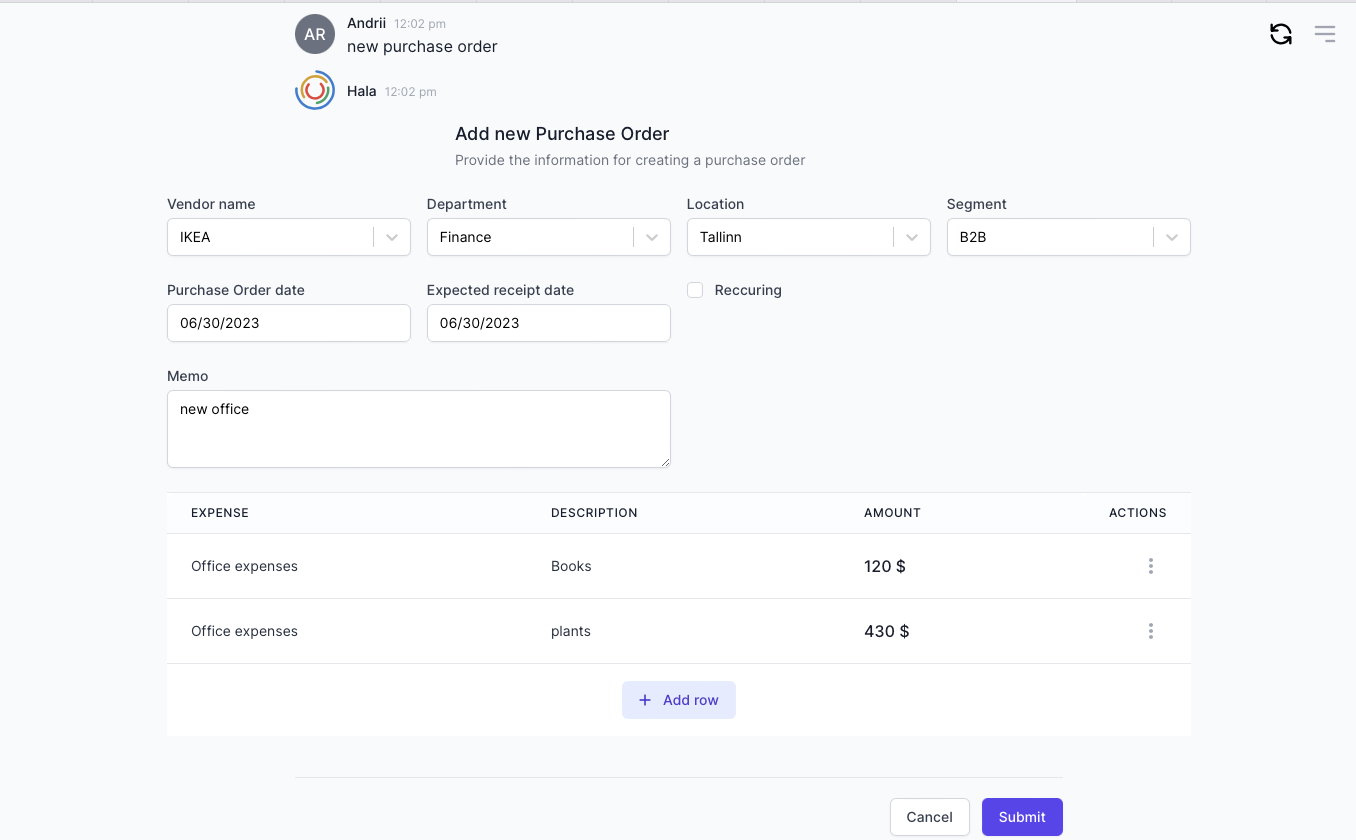 Hala.ai availble for Microsoft Dynamics AX, Nav, F&O, BC customers
AI Procurement Assistant for
Employees
For employees, our solution provides a user-friendly conversational interface that allows them to effortlessly make purchases using natural language. No more navigating complex procurement systems; they can simply express their needs and the platform takes care of the rest, saving time and reducing frustrations.
Simplified Purchase Requests

Effortlessly request items and create purchase orders using a user-friendly conversational interface.

Enhanced User Experience

Enjoy a seamless procurement process with natural language understanding and intuitive interactions.
Procurement departments
Procurement departments benefit from our solution by automating repetitive and time-consuming tasks. Purchase orders are generated automatically, ensuring accuracy and compliance. With streamlined processes, procurement teams can focus on strategic initiatives, vendor management, and cost optimization, ultimately improving overall efficiency.
Streamlined Workflows

Automate purchase order creation, approval processes, and vendor integration for improved efficiency.

Error Reduction

Minimize manual errors and data inconsistencies by leveraging automated procurement tasks and standardized workflows.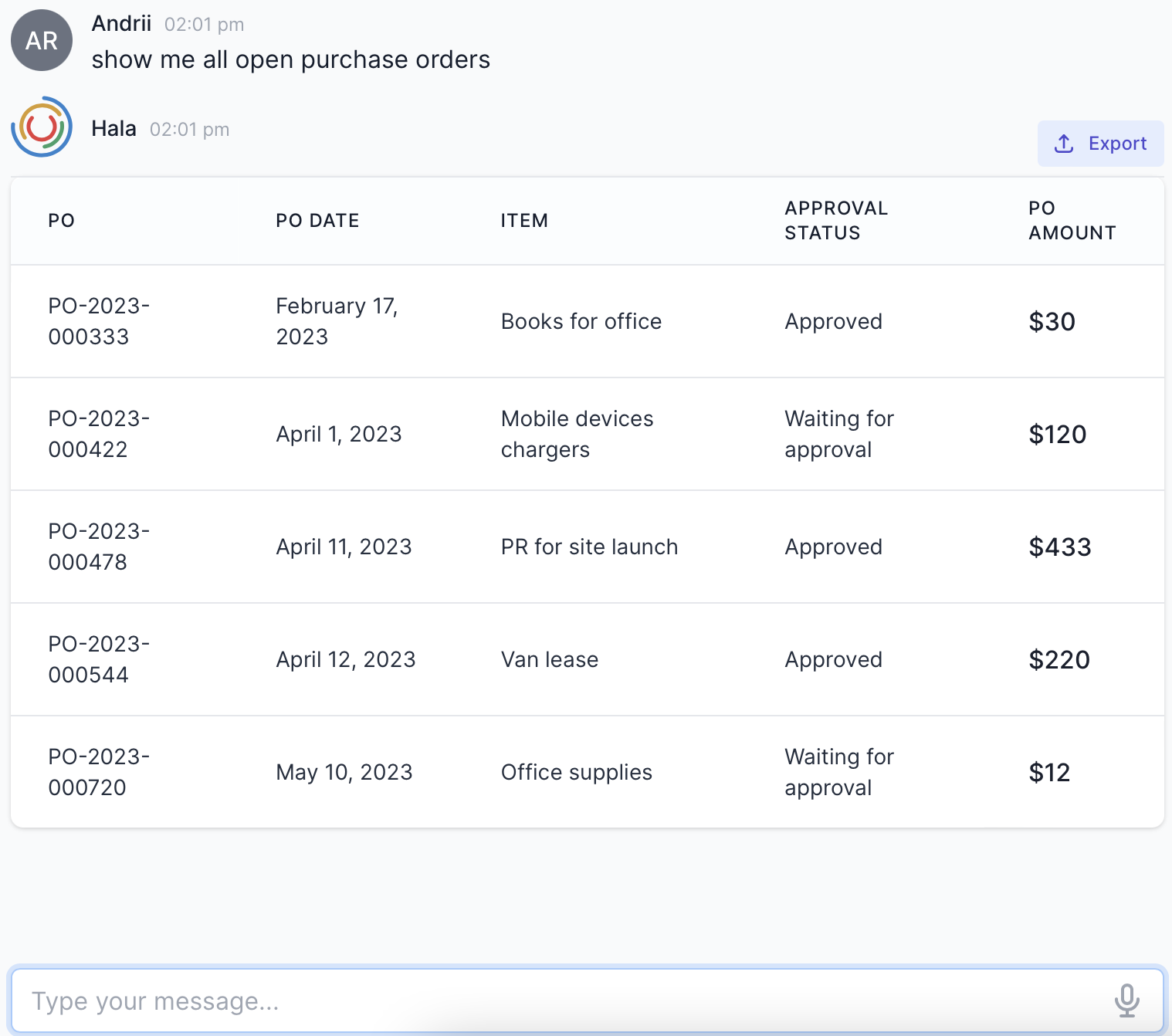 Managers
Managers gain valuable insights and control with our solution. They can easily review and approve purchase requests, track spending in real-time, and generate comprehensive reports for informed decision-making. The platform provides transparency and accountability, enabling managers to optimize budgets, identify cost-saving opportunities, and ensure compliance with organizational policies.
Real-time Visibility:

Gain complete visibility into procurement activities, track spending, and monitor progress in real-time for informed decision-making.

Data-driven Insights

Generate comprehensive reports and analyze spending patterns to identify cost-saving opportunities and optimize procurement strategies.
Value
Revolutionize Procurement with Intelligent Automation
Our solution empowers organizations to revolutionize their procurement processes by leveraging intelligent automation and seamless integration with Microsoft Dynamics. By automating repetitive tasks, streamlining workflows, and enhancing user experience, we enable customers to optimize efficiency, reduce costs, and make data-driven decisions. With a focus on simplifying procurement for employees, empowering procurement departments, and providing real-time visibility for managers, our solution transforms the way organizations approach procurement, unlocking significant value and competitive advantage.
30% Reduction in Procurement Cycle Time: By automating tasks and streamlining workflows, our solution significantly reduces the time required for procurement processes, enabling faster order processing and delivery.
25% Decrease in Manual Errors: Leveraging intelligent automation eliminates manual data entry errors, resulting in improved accuracy and efficiency throughout the procurement process.
40% Increase in Productivity: With automated procurement tasks, employees can focus on core responsibilities, leading to increased productivity and better utilization of their time and skills.
50% Improvement in Cost Savings: By optimizing procurement strategies, identifying cost-saving opportunities, and enhancing spend visibility, organizations can achieve substantial cost savings and better financial management.
Features
All-in-one AI Procurement Assistant
Revolutionize procurement with generative AI for Dynamics.
Natural Language Understanding
We have pre-trained Hala to understand the business language and queries.
Voice & Text
Hala understands the natural language via voice and text input.
Desktop Web Chat
Hala Digital Assistant is available for the users of all modern web browsers.
User management
Manage the users, provide them access to the skills and analyze their conversations.
Pre-built Digital Skills
Pre-automated processes that are available for all the users.
Verified solution
Corporates with 10000+ employees are already getting the value.
Case study
Nordic multinational telecommunication
The Nordic multinational telecommunication company's subsidiary utilizes Microsoft Dynamics as its central enterprise software for various functions, including purchasing. Adhering to internal rules, all purchases required should go through Microsoft Dynamics, necessitating the creation of purchase requisitions for each transaction. Recognizing the time-consuming nature of this process, the company sought an automation solution. Implementing Hala significantly reduced the time required to create new purchase requisitions.
Purchase requisitions created

6 800+

Saved minutes

34 000

Success rate

99.9%

Unique users

380+
Get in touch
Let us know if you have any questions about product capabilities, solution benefits, platform features, pricing, or technical issues.
Phone number

Email