blog
·
CFO. AI. RPA. CONTEXT.MINING. 2021-2025
Challenges in Finance
CFOs face a dual challenge in 2021 & 2022: Accelerate growth and digital initiatives and preserve or restore the organization's financial health.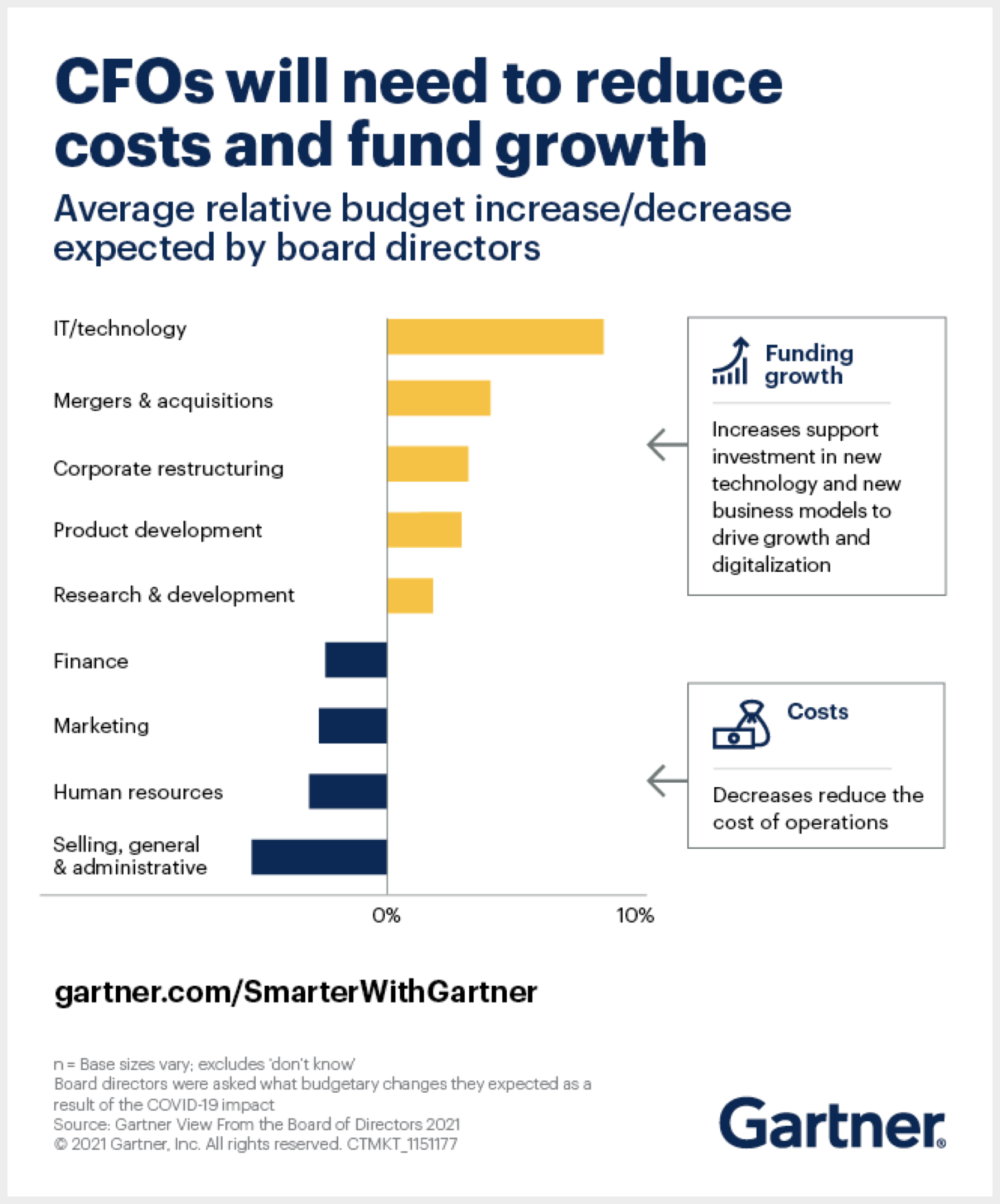 Where finance leaders will spend time and effort in 2021/2022
We have analyzed the needs of the different financial roles of large organizations, and we found that the biggest issue for all financial roles is Advanced data analytics technologies and tools.
Yes, it is true. Advanced data analytics is the biggest and most complicated challenge for finance departments. Of course, there are many BI solutions, beautiful dashboards, and reports, but this is only static information, information that not providing to you needed information to make a decision. The difference between analytics that we have today and analytics that we would like to have in the future resides in the readiness of this data.
- CFOs

- Controllers

- FP&A leaders

The finance automation landscape
The finance teams are using RPA technologies to improve efficiency, but RPA can only automate simple, repeatable tasks. Some teams are using AI and ML technologies for more complex processes and workflows to improve business agility and efficacy.
AI & RPA & Automation flow will ultimately enable finance teams to automate and orchestrate end-to-end processes, e.g., record-to-report, order-to-cash, for driving the improvements.
CFOs need a holistic, fundamental, and long-term approach to hyper-automation.
The most complicated automation is set for dynamic processes requiring judgment and involving unstructured, volatile, and high-velocity data. Examples include complying with new accounting standards, automatic accruals and provisions, or on-demand forecasting.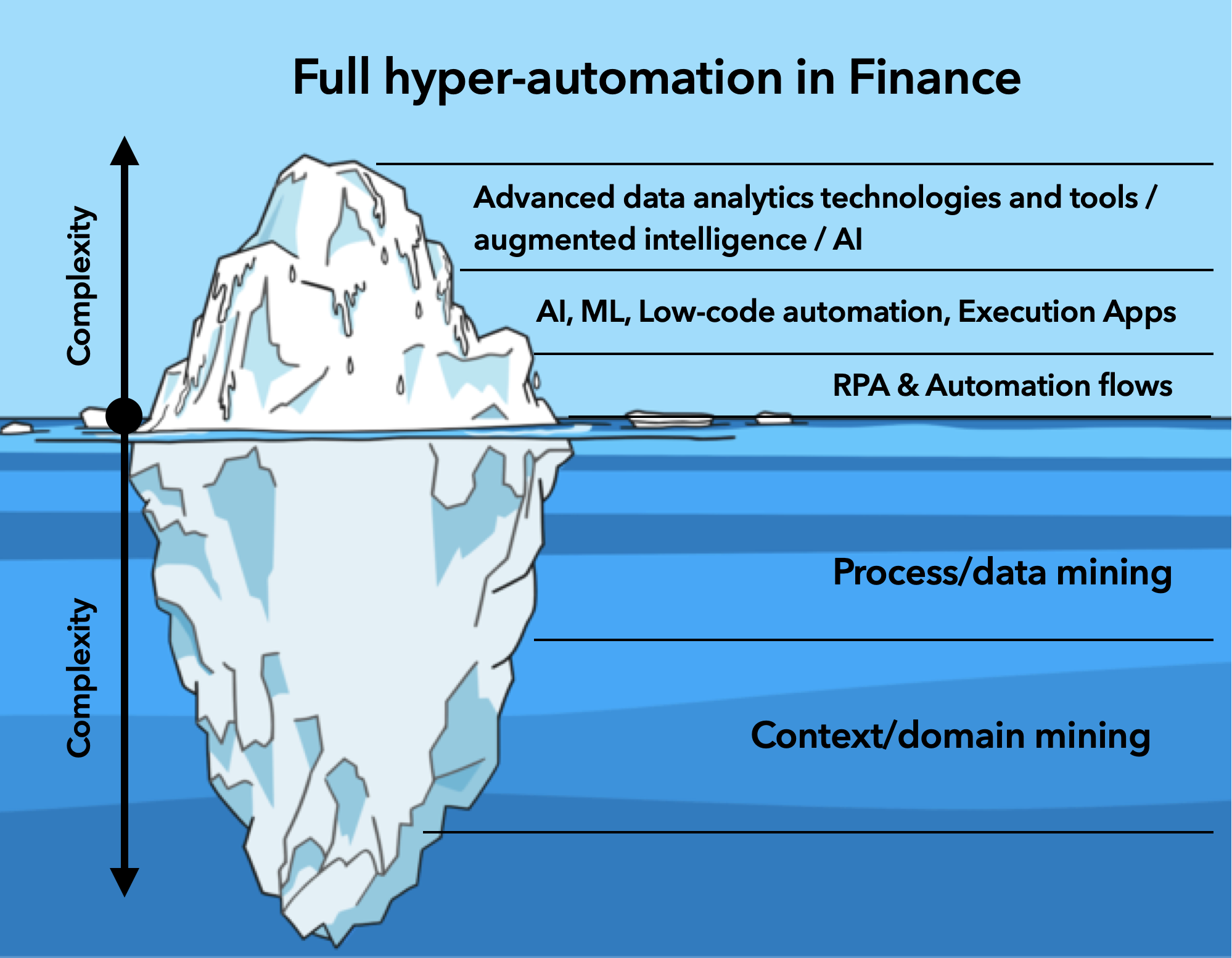 What is context mining?
In our opinion, content mining is the discipline that utilizing expert domain knowledge (e.g., Finance, Procurement, Sales) and automation technologies (e.g., AI, RPA, Process mining) to discover and extract the context from different enterprise software applications (e.g., SAP, Oracle, Workday) and at the end represented as a data that is ready for a decision on any level of the organization.
The context mining technologies are only one part of a bigger solution that should automatically X-ray the financial data and catalogs it, tag it, explain it, and let you govern it.
Context mining technologies are similar to process mining technologies that can analyze the process and let you know where a bottleneck is. With process mining technologies, you can get all the information to make a decision, and this decision can be, for example, to change the flow of the process, reduce steps of the process, or automate some of the steps. The real value of process mining technologies is preparing the data for decision making.
When we are talking about context mining technologies, we assume the same. We assume that when finance leaders ask questions about the financial data, they will get an immediate answer that will include the data ready for decision. Today for making this happened, CFOs should have a team that will work with the data and prepares it for decision.
What to expect
In 2021 and 2022, the focus of almost all the leaders would be on the automation of straightforward financial processes, starting from automatic invoice recognition and automatic account reconciliation to automation in the credit management area and audit processes.
The demand for advanced data analytics exists today. Technology companies should use 2021 and 2022 as a foundation for developing context mining technologies and accelerating their adoption in 2023. Still, Finance leaders are aware that this would take much effort to build and implement because of the crossroads of those technologies with finance domain knowledge.
Most probably, technology companies developing automation tools should make a joint venture with finance domain knowledge companies. Or they would need to establish new departments that will include industry experts in the Finance area. In any case, to be successful, they would need to combine automation technology tools with domain knowledge.