blog
·
From CFO to Super CFO with Process Mining & AI & RPA
According to Investopedia, a chief financial officer (CFO) is the senior executive responsible for managing the financial actions of a company. The CFO's duties include tracking cash flow and financial planning and analyzing the company's financial strengths and weaknesses and proposing corrective actions.
The role of the CFO has undergone a profound transformation in the last three decades. In the past, one of the key responsibilities was: the book and records of the company, financial reporting, statutory compliance, and relationships with investors and banks. Today's CFO is fundamentally different from the CFO of yesterday. There is a transformation from technical expertise with a narrow financial focus to a business partner with a strategic and operational focus.
The CFO of the future must be able to cover three areas: first, standard responsibilities of CFO (financial reporting, compliance, investments, etc.), secondly work with financial data and use it to influence operational decision-making and strategy, and finally be a catalyst for driving business transformation by incorporating new technologies for intelligent automation (e.g., AI and RPA) and transformation.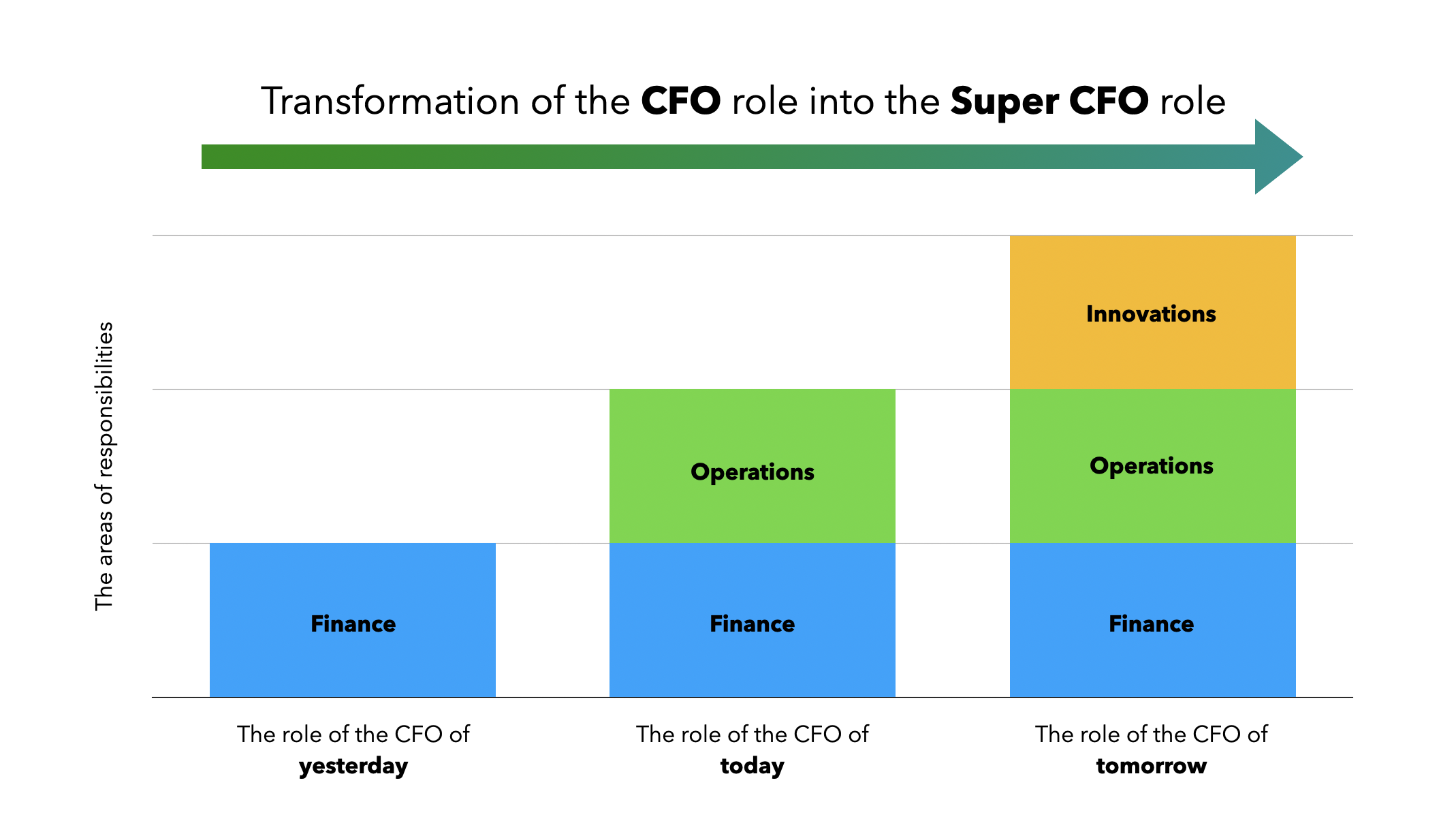 To understand the shift of CFO role in upcoming years I decided to analyse the current activities of the technology and consulting companies. Such companies have a direct impact on sharping the CFO role of the future.
How technology, consulting, and research companies impact the CFO role?
From the job vacancies of market leaders we can get a lot of insight information, as well their vision and strategy directions.
Research and advisory companies
One of the recent open positions in Gartner has the next description: Help CFOs and senior finance leaders effectively transform their processes and decision support capabilities and achieve a hyper-automation state.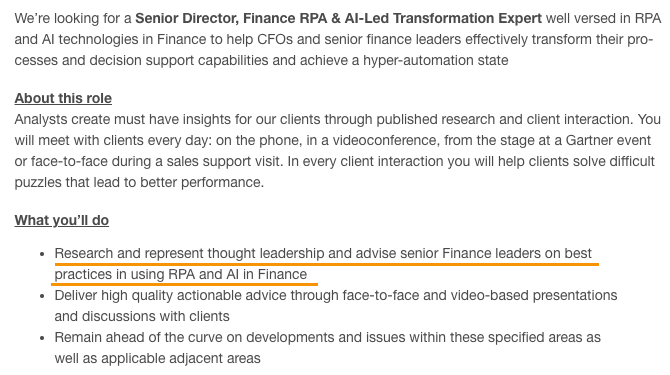 Management consulting companies
Let's take a look at open positions from Accenture, EY, and Baringa Partners.
Accenture
Are you inspired by the rapidly changing environment today's CFOs operate in? Do you want to help our FS clients' CFOs and finance functions adapt and excel in a new digital world and reap the benefits of advanced analytics?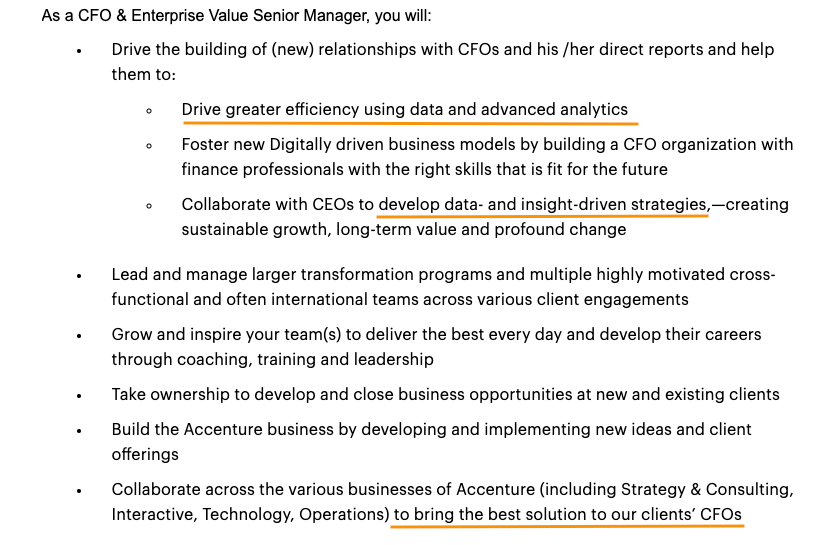 EY
In Financial Services rapidly changing environment, the CFOs have important transformation roles to play, firstly by making the Finance function more efficient, and secondly by enabling the broader transformation of Financial Services organizations. As Finance Transformation and Digital Finance professional, you will help drive CFO's agenda forward and you will play an important role in shaping the CFO ogranisation of the future.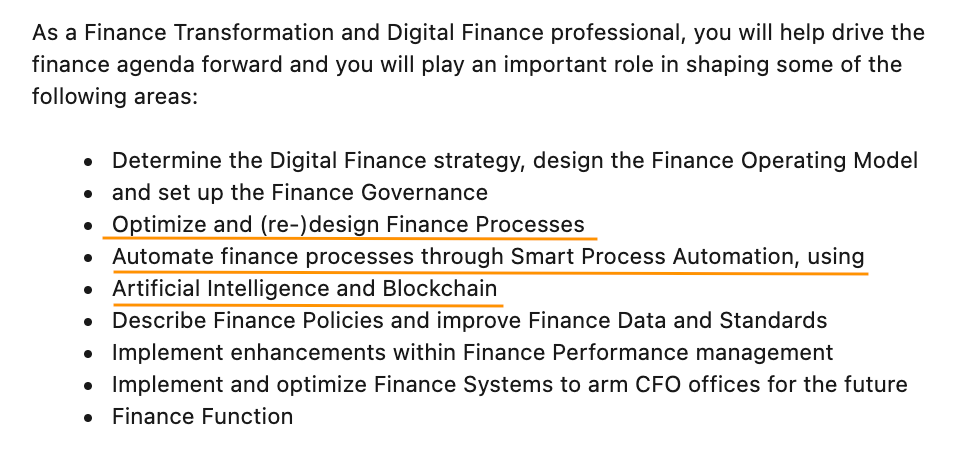 Baringa Partners
Baringa Partners is looking for candidates to join their CFO advisory team, and the candidates should have the next skills:

Accordion
Accordion is the go-to partner to the private equity community – driving value creation through financial consulting services and portfolio operations technology.
Description of one of the vacancies at Accordion: With the increase in complexity of the business environment and transactions, CFO's of private equity backed companies are increasingly being looked towards to drive strategic insights for their business. Finance organizations are no longer simply result reporters, but rather, they couple these results with forward looking data to provide strategic insights which are leveraged to make business decisions. Efficiency of process and meaningful control environments allows for speed of financial reporting with increasingly accurate measures, leaving more time for the finance team to add future enterprise value, rather than look backwards.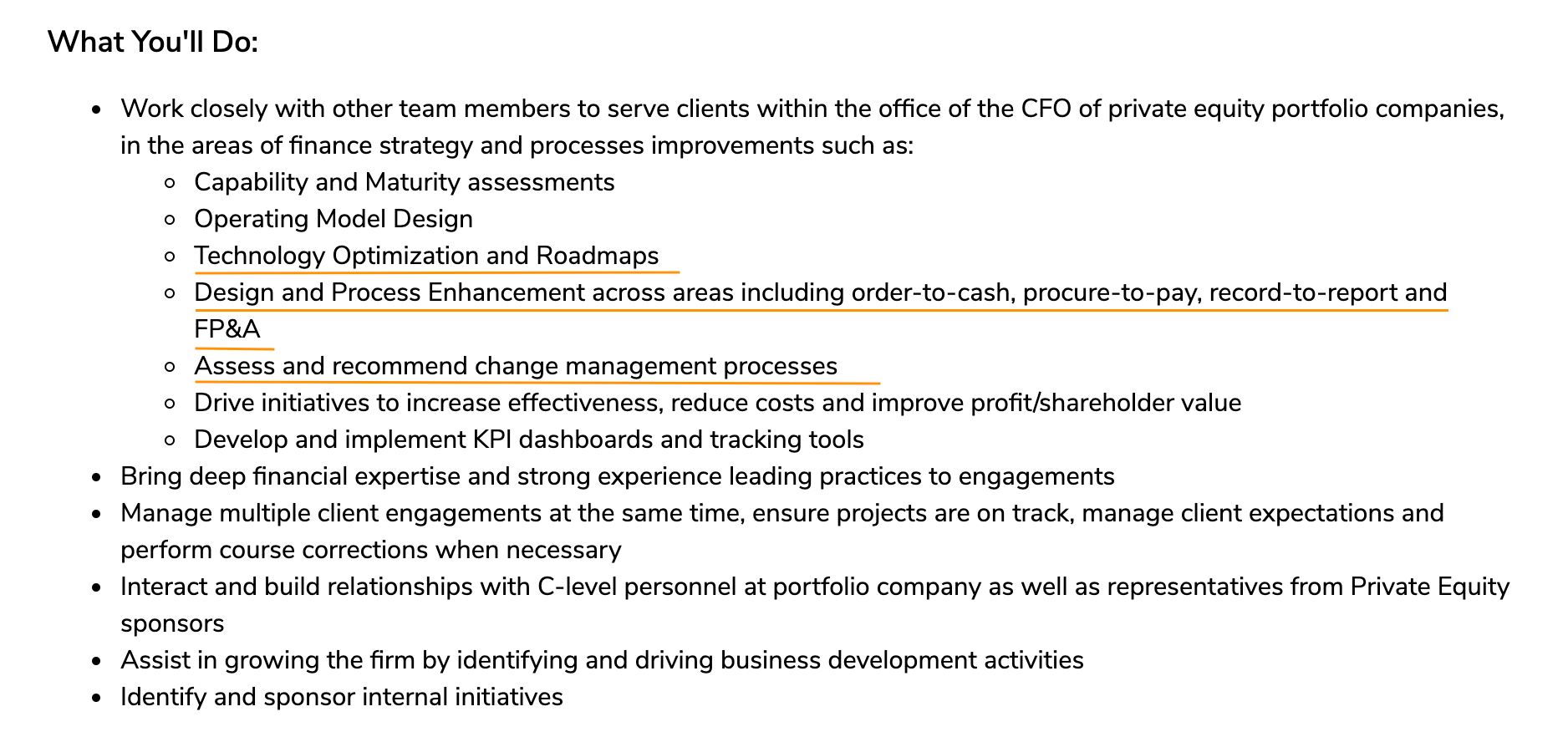 Product companies (e.g., ERP, CRM, HCM, ITSM, Accounting)
Many product market leaders embed AI, ML, RPA, and other automation technologies into their core solutions.
SAP
Some time back, SAP presented the Intelligent Enterprise concept. Intelligent Enterprises are integrated enterprises that use data to feed their intelligence.
At SAP, we are enabling our customers to become Intelligent Enterprises by integrating data and processes, building flexible value chains, innovating with industry best practices, providing our customers the ability to understand and act on their customer, partner, and employee sentiment, and how to manage their environmental impact — to grow more resilient, more profitable, and more sustainable (Source - SAP).
For the Intelligent Enterprise, Finance plays a key role by equipping the entire organization with the ability to understand the financial context and profitability impact of decisions and plans. You can achieve new levels of productivity through SAP intelligent automation and reimagined user experiences and workflows.
Sage
Sage Artificial Intelligence Labs "SAIL" is a nimble team within Sage building the future of cloud accounting by leveraging artificial intelligence. The SAIL team builds capabilities across Sage's product portfolio to help businesses automate and augment finance and operations workflows, to help businesses make better decisions through data-powered insights (Source - Sage).
Today, nearly every business in the world has to do bookkeeping and accounting in order to file taxes, understand financial health, and most importantly, make strategic business decisions. The process is universally manual, tedious, and error prone. At the same time, the process follows well-defined rules, abides by industry standardisation, and has become increasingly data-rich. It's a product-focused machine learning team's dream.
Product companies - RPA
One of the examples of RPA companies in UiPath. Please read the description of the open vacancy in UiPath.

Product companies - Execution Management System
Most probably, you must hear about the process mining solutions. One of the great examples of such companies is Celonis. Celonis currently significantly expanded the value proposition and defined the new market category of Execution Management Systems (EMS). The Celonis Execution Management System provides a set of instruments and applications to help companies manage every facet of execution management, from analytics, strategy, and planning, to management, actions, and automation.
Look at open vacancies of Celonis. They have a big focus on Finance, especially on delivering the value into the order-to-cash, purchase-to-pay, inventory, order management, working capital areas.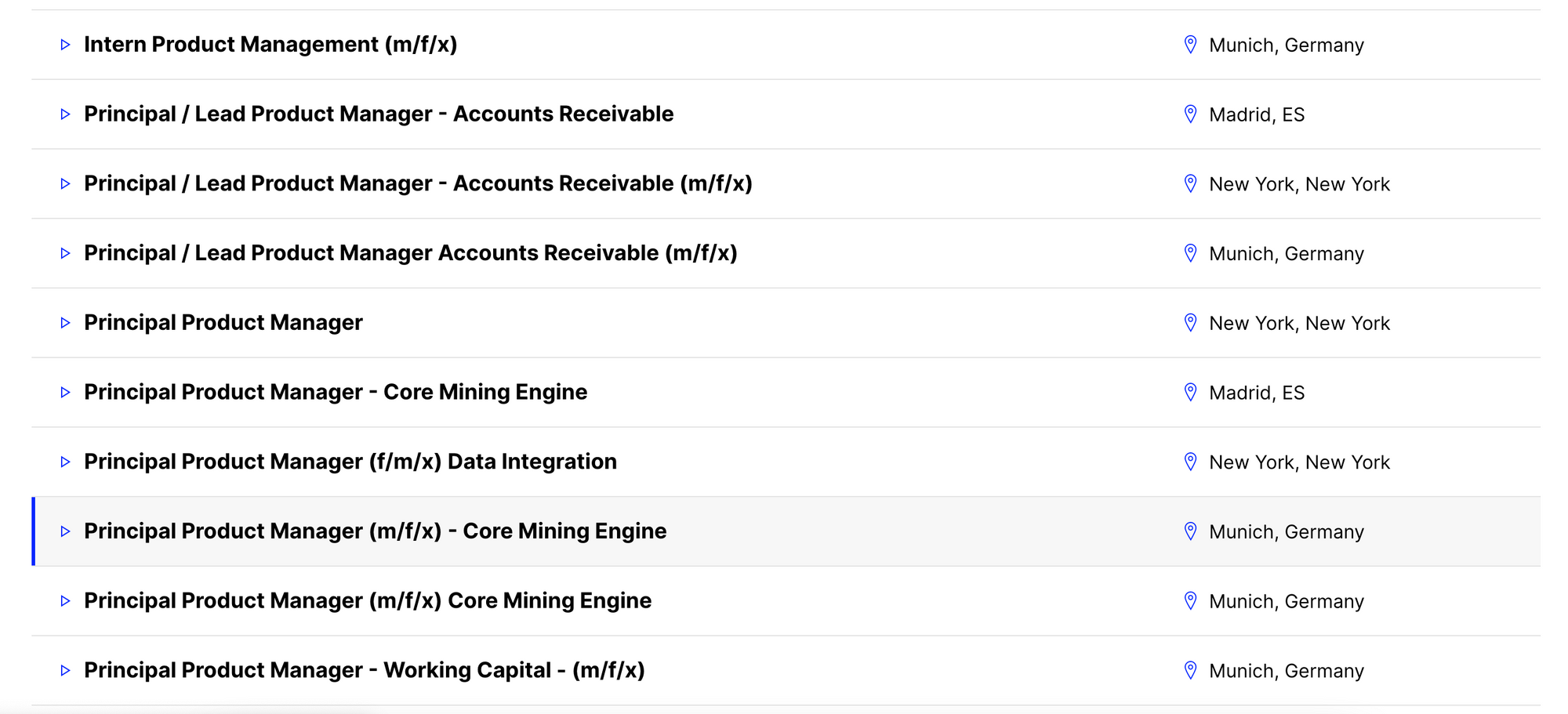 And the description for one of the position:

Conclusion
As you can see, all the companies are trying to work in the direction of helping and supporting the CFO's to get max from the new technologies for achieving new levels of efficiency.
ERP companies embed the AI and RPA into the core products;
RPA companies trying to find the niche in the CFO agenda to bring the automation;
EMS companies are developing solutions focused not only on automation but on understanding the processes bottlenecks and the value from the automation;
Consulting companies are here to help implement the products, technologies, re-design the processes and provide other support in helping the CFO meet the goals;
Research companies equip CFO's across the enterprise to make the right decisions and stay ahead of change;
Technologies that enable automation
We can use many technologies to automate the processes and increase efficiency, but I believe the core three is Process Mining, Artificial Intelligence (AI), and Robotic Process Automation (RPA).
Process mining is a crucial part of the whole automation because, with those technologies, we can analyze existing data and processes to answer questions like this: What we need to automate? What takes most of our time? Where are the gaps in the process? What processes are overcomplicated? Where the bottlenecks? What is the value of automation?
Artificial Intelligence is an umbrella for many technologies that can help us analyze the data, build prediction models, use natural language processing for working with the text data, use deep learning for OCR, and apply machine learning models in many use cases achieving automation.
Robotic process automation - the main purpose is to manage software robots that emulate humans' actions interacting with digital systems and software.
To be continiued
In the next article, I will describe where to start and different areas of automation, and the value.